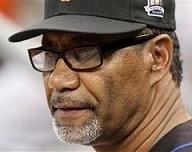 It's a month and a half before the games start and the tabloids are already poised to pounce:
David Wright, Jose Reyes and now Johan Santana all have said they expect the Mets to win the World Series. The Mets are turning the page on an injury-plagued 2009 by making one bold statement after another. That means the pressure is on Jerry Manuel like never before.

The manager has to produce. The Mets must get off to a good start.
Manuel will offer up his State of the Mets address today with his first
formal press conference of the 2010 season. He has made it clear the
Mets have to get off to that good start.
I'm not the world's biggest Jerry Manuel fan, but to the extent this Mets team has had problems recently, I figure them to be about 50% injury-inflicted, 35% front office-inflicted and 15% on Jerry Manuel, if that.  Fact is a manager doesn't make nearly as big a difference as most people like to pretend he does, even if he is the first to get the blame when things go sideways.  A manager's primary job in my view is to manage the clubhouse, diffusing the strife and keeping everything on an even keel. You have to fire the skipper when he loses the clubhouse, but beyond that, personnel and health mean a lot more to a team's chances at success than the manager.
I don't doubt that Manuel will get fired if the team starts poorly, but unless players are fighting one another or something, that poor start won't really be Jerry Manuel's fault.