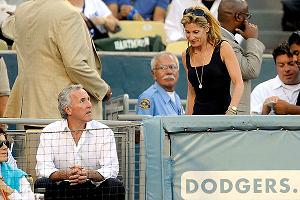 More fun from DodgerLand, as Jamie McCourt has filed new papers seeking adjustments in her monthly allowance. The highlight — at least from my perspective — is Jamie's claim that Frank has way more money than he claims, and that he has grand, grand plans:
"Frank McCourt hopes to transform the Dodgers from a baseball team into
the anchor of a sports business empire that could include cable
television channels broadcast in English and Spanish; homes, shops and
a football stadium within the Dodger Stadium parking lots; and the
purchase of a soccer club in China and another in the English Premier
League."
These smell less like concrete plans and more like every half-assed idea a husband mentions to his wife over a handful of years. If my wife was Jamie and I was Frank the list would include plans for the basement to become a rec-room, a home gym, a home theater and maybe, just maybe, to get cleaned up for once.  The article notes that a lot of those things have been discussed publicly, but in a world where Jamey Carroll is your big offseason pickup and Randy Wolf isn't offered arbitration, some of those choices have to exclude the others, don't they?
But man, if that football thing has even a kernal of truth to it, Frank McCourt should have the car keys taken away from him. I mean, if you think it's hard to get to and park at Dodger Stadium now just plant a football stadium in the parking lot and see what happens.
Other highlights:
Jamie McCourt asked that her allowance be raised from her initial $488,000 request to $988,845 per
month because of (a) property tax bills; and (b) records which show that the couple actually used to burn through $2.3 million. I couldn't imagine how I'd spend $2.3 million a month even if money were edible;
In advance of the divorce filing Frank used "blatant balance sheet manipulations" in order to portray himself as less wealthy than he really is.  It's a serious charge to be sure, but hey, he is a baseball owner and they have the market cornered on that kind of thing.
Frank McCourt currently resides in a "luxury hotel in Beverly Hills" and has spent $52,000 on clothes since November.  Given that the divorce papers revealed that the McCourts own approximately 326 pieces of real estate, I can only assume that he's staying at the hotel while one of his houses gets renovated into a Quagmire-style bachelor pad. It would explain the clothing bill too, because a swingin' bachelor needs nice threads.
Frank keeps two of his sons on the Dodgers' payroll — at a combined annual
salary of $600,000 — "despite the fact that one is a graduate student
at Stanford and the other works full-time for Goldman Sachs."  Eh, a grad student and an investment banker are more useful than Juan Pierre, and Frank kept him on the roster for way more money than that.
The trial to decide who owns the Dodgers is set for May 24th. The Dodgers are off that day before going on the road to play the Cubs, so it shouldn't inconvenience anyone.