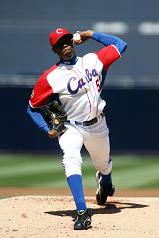 One of the things I'm most eager to see this spring is how Aroldis Chapman does. He's such an unknown compared to everyone else. He's been hyped to the nth degree. Is the hype justified? If so, he could prove to be a real difference maker, helping turn a Reds team that currently qualifies, competitively speaking, as "interesting" into one that is genuinely "frisky."
We won't have a clear take on Champan's progress for a while of course, but yesterday he made his debut in Reds camp and things went well: 
The ball seemed to snap in Hernandez's glove as he shouted instructions and encouragement in Spanish. Watching their
$30 million investment pitch — GM Walt Jocketty, assistant GM Bob
Miller, scout Jerry Walker, manager Dusty Baker and pitching coach
Bryan Price. Tony Fossas, the Class A Dayton pitching coach and Cuban
native, translated coaching instructions from behind the mound . . . "Very impressive," Jocketty said. "I'd like to see him when a hitter
gets in there. He showed good command. Everything was right around the
strike zone. I watched him do his fielding drills over there and that
was pretty good."
Maybe the coolest thing about this is the Tony Fossas sighting.  He's the ultimate survivor, isn't he? He wisely or luckily signed with the Cardinals just before they hired Tony La Russa, whose thing for situational lefties likely helped extend his career into his 40s. He takes a job with the Reds just before they sign the most highly-touted Cuban prospect in history, his Cuban heritage likely buying him a little more job security.
When the nukes start flying, I'm going to be wherever Tony Fossas is, because that dude will no doubt be in the right place.