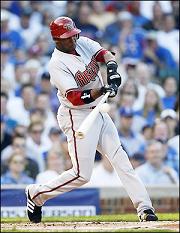 The Diamondbacks are thinking long term:
Their arbitration-eligible players all taken care of thanks to the
Valentine's Day signing of right-hander Edwin Jackson, the D-backs
front office will turn its attention to signing players with less than
three years of big league service. That typically involves one-year deals, but in the case of
third baseman Mark Reynolds and right fielder Justin Upton, it appears
the D-backs have at least begun to explore multiyear pacts.
We've heard this before regarding Reynolds. My take on him was, for his own sake, he should do his best to get a long-term deal while the gettin's good. If I'm Arizona, however, I'm wary of going overboard, for the same reason that I'd want to sign a deal if I were Reynolds: his market is not going to be scintillating in the coming years. There will be teams that steer away from him due to his age, his strikeouts or both.  If Adam Dunn has to go year-to-year through his 30s, than Reynolds will have to as well.  So sure, if you're Arizona you explore locking him up for the sake of certainty, but don't go crazy.
Upton is a different story of course. To quote the Rotoworld annual that just arrived at my door (and which you should totally buy) you'd be hard-pressed to find a ballplayer with more promise than Upton. He's young and progressing in ways that Hall-of-Fame caliber players have progressed in the past. Lock him up and throw away the key, I say.
But for how much? FanGraph's Joe Pawlikowski ran some numbers today. His verdict: a five-year $58 million deal which balances the team and player risks and allows Upton to still hit free agency at age 28 when he can make top-shelf money.  If I'm the team I probably offer that right now.
If I'm Upton I may be wary to accept it, because if I take the next predictable step forward, I may very well shatter Ryan Howard's record come arbitration time next year, which could set the stage for an even bigger deal. Of course, saying no to $58 million guaranteed dollars is a much easier thing to do when you're just pretending to be Justin Upton. It might take a second's more deliberation for the real Justin Upton.