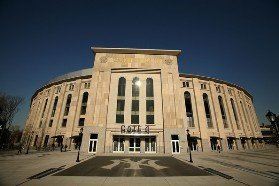 When some local residents challenged the plans for New Yankee Stadium in court a few years ago the judge threw it out because, according to the plans in place, the parkland and ballfields the citizens were losing was going to be replaced. Juan Gonzalez of the Daily News wants to know what ever happened to that plan:
Three and a half years after Mayor Bloomberg
closed huge portions of Mullaly and Macombs Dam parks to make way for
the Yankees new $1.5 billion stadium, the replacement ballfields the
city promised are nowhere to be seen.

It has been nearly 18 months since the last game was played in the
old stadium. Yet its concrete hulk still looms like a gray ghost across
the street from the Yankees new palace  . . . No one in authority seems to care about this huge delay. Not the
bureaucrats in City Hall. Not the Parks Department. Not the Yankees.
Not the local politicians.
This is a bit melodramatic in that, yes, it appears that those projects are going to get done eventually. But the delays and cost overruns involved provide a pretty good and all-too-typical example of why people should never take a politician's word about all of the good things the public will receive as a result of them subsidizing a billionaire's playground.