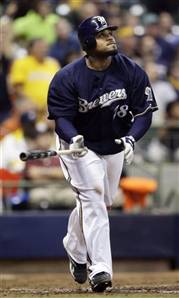 Dave Begel of On Milwaukee magazine thinks the answer is yes:
If you think [The Brewers] are a team that should contend every year and expect
that they will always be in the hunt for a playoff berth, then you say
of course you have to sign Fielder. Both Braun and Fielder are better
when they are both in the lineup.

But if you believe the Brewers are trying to catch lightning in a
bottle and need a minor miracle to win a World Series against the big
boys, then you say it's okay to trade Fielder. God knows what you could
get for him, but it would certainly be a lot of talent . . . I think this team gets a lot closer to the World Series without
Prince Fielder in the lineup.
Seems radical, but this viewpoint has a supporter in Rob Neyer, who thinks that while trading Fielder may be a big P.R. hit, bringing in some talent for the big guy, not having to pay him big money and installing Mat Gamel at first base — with Casey McGehee at third — would make Milwaukee a better, more competitive team for the long haul.
Would Doug Melvin consider this? Right now it seems that trading him would be far-fetched. But, if the Brewers find themselves out of the race at some point this year, it's got to be something they consider, because (a) while Milwaukee draws well, they don't have access to a money tree; and (b) Fielder, represented by Scott Boras, is not going to sign some club-friendly deal prior to hitting the open market.