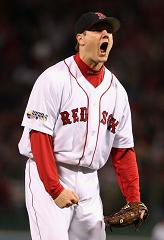 A Jonathan Papelbon interview always presents the chance for some crazy. He's just one of those guys who — refreshingly I might add — doesn't always revert to platitudes.  Sadly, he was pretty straight up and lucid yesterday in an extensive interview with WEEI's Alex Speier, talking about going year-to-year with the Sox, his role models and about bouncing back from getting beat up by the Angels in Game 3 of the ALDS:
By his own account, he replayed the video of that meltdown 100 times in
his home gym during the winter, using his unprecedented failure as a
tool to push him harder towards 2010.
 
"I was using it as motivation whenever I was feeling tired and weak in
the weight room," Papelbon said on Tuesday afternoon at the Red Sox'
minor league training facility, shortly after his first bullpen session
of the new year. "I'd pop it on and say, 'There's still work to be
done.'"
Given that relief pitchers are supposed to have no memory, aren't supposed to dwell on the past and all of that I find it interesting that he'd go back and watch that outing. Not that he can't do whatever he needs to do to stay motivated. Other tidbits from the interview:
Papelbon thinks this slight falloff in 2009 was attributable to mechanical tweaks he made early in the season and that he straightened that out by the end of the year. There's some evidence of that — his walk rate went down as the season progressed — but more worrisome was his over-reliance on his fastball, especially in the playoffs.  He says that was just a mental block on his part — he lost touch of his split finger and became loathe to throw it — and that it's going to change this year;
Papelbon says people should not assume that he will be leave Boston when he is eligible to become a free agent and that, if he had his way, he'd stay in Boston for 15 years. Nice, but something tells me that Theo will be holding the door for him — or more specifically, his contract — when he hits the market.
One thing there was no mention of was Josh Daniel Bard [I have made that mistake approximately 246 times in the last year]. It's been so long since I've seen a Papelbon interview in which he wasn't asked about Bard — or baited to say something provocative, maybe — I was rather surprised.
All in all a pretty calm, rational and standard interview from Papelbon. Which, while kind of sad on some level, is probably exactly what Sox fans want to hear.