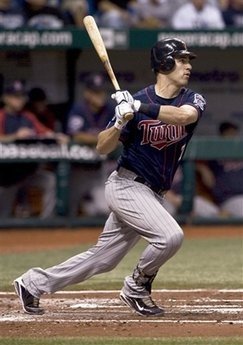 Bob Nightengale has a lengthy article on Joe Mauer in USA Today, um, today, painting a picture of a regular guy who, it seems anyway, wouldn't quite know what to do with $200 million:
On his way to the Sony Computer Entertainment studio in San Diego to do motion-capture work for the video game, Mauer's Lincoln Town Car rolls up to an In-N-Out Burger in El Toro, Calif. The window rolls down, and from the passenger seat, he orders a Double-Double with fries. When you're an unassuming kid from St. Paul, why
bother with expensive seafood or steak on a three-day trip to
California when you can order from one of your favorite fast-food
joints?

Then again, Mauer passed on a luxury vehicle
when he got a $5.15 million bonus in 2001 for signing out of high
school, and he now drives a truck. His only indulgence is a cabin north
of the Twin Cities, a ranch with batting cages, bowling alley, movie
theater, recording booth (yes, he sings), hockey/fishing pond and
plenty of hunting land . . .

. . . "He just hangs out, plays videos and beats us in anything. He's a great
golfer. He bowls with two hands. Good ping-pong player. He's a great
skater. He can dance like Michael Jackson. We haven't found anything he's not good at. It's kind of annoying."
Big ups to Mauer on the Double-Double with fries — and how nice it is to hear that none of his family and friends see him leaving Minnesota — but anytime I hear stories like this about ballplayers — about how unassuming they are and all of that — I'm taken back to that thing Bill James once wrote about Dwight Gooden. About how when ballplayers come up and have a lot of early success, how they're always talked about as being such fine young men.  James said that sportswriters — "either despite their cynicism of because of it" — are desperately want to believe that athletes are heroes and saints until the very moment that they prove not to be, and then they feel betrayed.
This stuff about Mauer is less about him being a hero than merely a nice, sensible young man, but the dynamic is the same. Why else do you travel to Minnesota to talk to his friends unless you're doing it to push the "Mauer would never leave Minnesota for more money" story along?  What will the story look like if the Twins decide to lowball him and he bolts for Boston next year?  Will we still hear about his ranch, his video games and his Double-Doubles, or will we hear more about Joe Mauer, Inc., moving to the East Coast?
For what it's worth I think he will stay in Minnesota, but if he does it will almost certainly be because it makes good business sense for him, not because of some inherent goodness in him that renders the same considerations every other ballplayer makes somehow irrelevant.