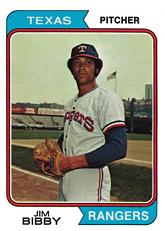 Former Pirates (and Rangers and Indians and Cardinals) pitcher Jim Bibby passed away last night of an undisclosed illness.  Bibby pitched in the Majors for 12 seasons, winning 111 games, striking out 1079 guys and winning a World Series ring with the 1979 Pirates. He threw a no-hitter in 1973. He came in third in the Cy Young vote in 1980. He was a usually decent and occasionally great pitcher and a guy whose baseball cards always made me smile for some reason.
He was also the subject of a classic passage from Mike Shropshire's wonderfully misanthropic book about the mid-70s Rangers, Seasons in Hell:
Jim Bibby, who for reasons known only to himself went by the "stage name" of Fontay O'Rooney, was by no means a complete major league pitcher. But he threw a vicious fastball — "serious heat . . . severe gas" — that would scare the bejesus out of most American League batters. Parenthetically, Bibby could also lay claim to owning the biggest apparatus of manhood in baseball — an appendage of near-equine proportions — and it was to Bob Short's eternal frustration that he could never harness that particular novelty into a gate attraction at Arlington Stadium.
65 is too young to go, and Jim Bibby will certainly be missed. But if you have to go — and we all do sometime — there are worse things to be remembered for than possessing a World Series ring, an otherworldly fastball and "the biggest apparatus of manhood in baseball."
Godspeed, Mr. Bibby
(thanks to Jay Jaffe for the link to the book passage)