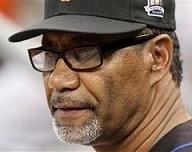 When it comes to spring training evergreen stories there aren't many more venerable than "best shape of his life" and "Player X spent the winter working on a new arm angle to get on top of his breaking ball" pieces. After those, however, you have to go with "Manager X plans on emphasizing fundamental baseball this spring" rebop. According to Allen Barra, this year it's the Mets singing that tune:
Looking for bright spots as the Mets pitchers and catchers report?
Here's one: Jerry Manuel has vowed to put his team through a starter
course in fielding fundamentals.
Two observations:
The major leagues is a bit late to be teaching anyone fundamental baseball. The best way to ensure good fundamental baseball at this level is to, you know, get guys who are fundamentally-sound baseball players and use them a lot; and
As Barra notes, the the Mets are likely to realize a dramatic improvement on defense simply by having Carlos Beltran and Jose Reyes back on the field.  Query: is Manuel clever/devious enough to be aware of this, plant some "I'm emphasizing fundamentals" stories in the press and then later try to take credit for the inevitable improvement brought on by Beltran and Reyes being back?
Probably not. He's got more to worry about than silly spin games. But part of me likes to think of Jerry Manuel trying to play the angles in advance of what could be an ugly summer in Queens.