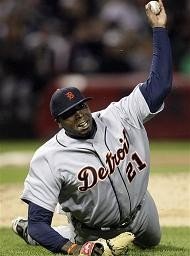 It has been extremely difficult to watch Dontrelle Willis struggle these past few years. When he was on, he was an exciting and downright endearing pitcher, with an infectious enthusiasm and unique style. Based on Lynn Henning's report from Tigertown, however, it sounds like we'll never see that pitcher again:
"People see me smiling, but I think they're confused about what the
issue is with Dontrelle Willis," said a pitcher who has spent most of
the past two seasons on the disabled list, with one victory since
joining the Tigers. "To me, the issue is, I'm terrible."

He went back on the DL in June with the same diagnosis: anxiety disorder. Willis concedes he doesn't fully understand the doctors' findings. "Those are the cards they chose to deal to me," he said of the clinical evaluation. What has he learned about anxiety and its possible effects on him?

"Nothing," he said.

Does he take medication for his disorder?

"No medication."
This last part may be the most troubling, for one of two reasons.  It could mean that Dontrelle Willis is refusing to treat what can be a very serious condition, and the Tigers — who we must assume monitor Willis' health as closely as they monitor all of their players' health — are condoning it.
Or it could mean something more sinister: that Dontrelle Willis doesn't really have anxiety disorder, that his problems are basically a function of him losing his control and effectiveness, and that the Tigers have been nonetheless saying that he does have it in order to justify all of the time he's spent on the disabled list.
I'm not trying to throw bombs here. I don't profess to know what's truly going on with Dontrelle Willis, and if there is another explanation, I'm open to hearing it. But based on this article — and others in the past in which Willis has said that his problem is that he simply stinks — it seems that Willis is either playing with medical fire, or else the Tigers are engaged in DL funny business.
I hope that neither of those is the case.
UPDATE:  Good point from David Pinto:
I used to think this was possible, that teams manipulate the DL. MLB,
however, appears to be very tough on teams disabling players, and the
paper work, including medical reports, needs to be in order. More
likely, this disorder can't be handled with drugs. Simply put, there is
not a pill for every disorder.
Agreed, it's entirely possible that medication is not effective or not indicated in Willis' particular case. I remain concerned, however, that Willis' default seems to this self-loathing "I stink" kind of stuff.  Medication or not, if a person with anxiety disorder is that down on himself, I hope he's getting a ton of non-pharmaceutical help.