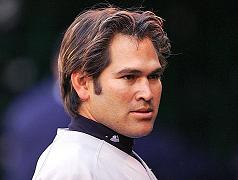 UPDATE, 9:28pm: A few interesting nuggets from Rosenthal:
Damon played golf Monday with White Sox catcher A.J. Pierzynski and broadcaster Ken "Hawk" Harrelson.
And Damon's wife, Michelle, "would prefer him to play in a more cosmopolitan city than Detroit."
Still, Damon is going to sign where he finds the most money and it remains to be seen if the White Sox will up their offer.
UPDATE, 8:49pm: Rosenthal now says that a new offer has not been made by the White Sox and their original proposal is not as lucrative as Detroit's.  Well, that was fun while it lasted.
8:30pm: According to FOXSports.com's Ken Rosenthal, a potential agreement between the White Sox and free agent outfielder Johnny Damon is "gaining momentum."
It's a bit of a surprise considering the Tigers' deep involvement with Damon as recently as Monday, but the news also serves as a reminder that we should never count White Sox GM Kenny Williams out of the hunt for any available free agent or trade target.  Rosenthal is hearing that Williams and Co. have made a second offer, and it's probably safe to assume that the new proposal is either equally or more lucrative than Detroit's standing bid.
Damon, 36, batted .282/.365/.489 with 24 homers, 82 RBI, 12 stolen bases and 107 runs scored in 550 at-bats last season for the
Yankees and would likely serve as Chicago's starting left fielder this year if an agreement is reached.  He has also been courted this winter by the Braves and Rays, though we haven't heard much from either team in several weeks.  Damon is represented by super-agent Scott Boras.