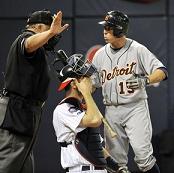 You'll recall the little controversy in the 12th inning of Game 163 between the Twins and Tigers last year? The one in which home plate umpire Randy Marsh missed the fact that Brandon Inge got hit by a pitch with the bases loaded that would have given the Tigers at least a one-run lead and, possibly, the division title?  Well, Marsh lived with it for a few weeks after the season but then he unburdened his conscience:
Not that it does much good now, but they got it wrong — and they know it.

In an interview last Friday before a charity roast for Don Zimmer in Connecticut, Jim Leyland said he got a call from umpire Randy Marsh "three weeks into the offseason" to apologize
for missing the one-out pitch with the bases loaded that hit Brandon
Inge in the playoff game against Minnesota.
I suppose the first impulse of a Tigers fan would be to moan and complain about this.  The second impulse, however, should be to reflect on the facts that (a) the Tigers were still unable to get a run home from third with one out; and (b) they wouldn't have even been in the game if they hadn't blown a seven game lead in September in the first place.
But hey, apology accepted.