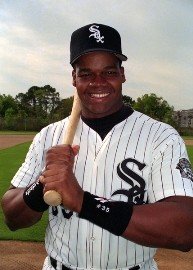 At the outset of his righteous defense of Frank Thomas' Hall of Fame credentials, Joe Posnanski launches into discussion of steroids. The interesting part: after dealing with the usual steroid suspects, he wonders whether it's possible to create a list of clean players, which he refers to as his "Fair Play" list:
Then there is the non-users list. The fair play list. This is a list
of players — and everyone has their own list — who we have to believe,
deep down, did not use performance enhancing drugs. How does someone
get on this list? Well, it's tricky because just about everyone SAYS
that they did not use PEDs. And as soon as you start to celebrate
someone, someone else writes a book about him.

Still, by consensus, I would say a Fair Play List might look a little bit like this (feel free to add your own players):

– Frank Thomas
– Ken Griffey
– Greg Maddux
– Pedro Martinez
– David Eckstein
– Jamie Moyer
– Every Royals hitter since 1985.*
I love Posnanski because despite the fact that he has covered baseball for years, he always manages to take a fresh look at things, rarely if ever falling into cliche or conventional wisdom.  But in this case I think he's off base. Not in naming those particular guys as non-users — if I had to bet money one way or the other I'd wager that they didn't — but in engaging in the very exercise of sorting users from non-users itself.
Part of this is because we simply can't know who didn't use. Denials — even strident ones — have proven to mean nothing when it comes to figuring out who used and who didn't.  Neither have body types or production (Randy Velarde, anyone? Ryan Frankin? Kent Mercker? Fernando Vina?).
But Josh Fisher of The Hardball Times points out a bigger problem than our ignorance:
The truly insidious aspect of assuming certain kinds of players did not
use is that it reinforces inaccurate notions of which players do use. By determining that David Eckstein
is a non-user because he is in danger of being blown away by a strong
wind and cannot ride some roller coasters, we add silent suspicion to
other small players with better physical tools. By identifying Jamie Moyer as a non-user because his fastball is often at no risk of a speeding
ticket, we baselessly affirm that players who throw hard are more
likely to be users. Our perceptions about what players do not use are
as inappropriate as our mental image of a the type of player who does.
While I've been called a steroid apologist in the past, that's simply not true. What I'm against is (a) the demonization of PED users as profoundly evil people; and (b) the perpetuation of lazy and destructive assumptions about steroids, who may or may not use them and what impact they have on the game and the record book.  As Josh so accurately notes, any effort to make a "Fair Play List" from a pool of players who were never subject to steroid testing leads to (b) and, depending on what we write about the people on such a list, gives us cover for a lot more (a).
I see what Posnanski is trying to do here, but I think such an effort has the potential to be more destructive than helpful.  Let's just work our way through the next decade or so of Hall of Fame votes as best we can, evaluating each player on their own merits the best we can, taking what we know — and only what we know — about their PED use or lack thereof, and leave the list-making out of it.