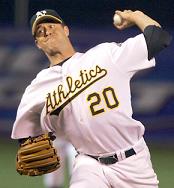 UPDATE: The Chron's Susan Slusser reports that Mark Mulder's agent is saying that reports that Mulder is retiring are "not accurate" and that "Mark has not made a decision."
Interesting. Earlier Brewers' pitching coach Rick Peterson said Mulder was retiring, but maybe he misinterpreted.  Or maybe it's like when I told my buddy at work that I was going to quit and become a blogger on a Monday but didn't tell the bosses until Friday.
UPDATE II: Slusser spoke with Eric Chavez, who spoke with Mulder today, and Chavez says Mulder is "done."
Mark Mulder: call your agent.

11:00 A.M. It's being reported by a Milwaukee television station this morning that Mark Mulder is retiring.  The Journal-Sentinel's Tom Haudricourt tweets that while the Brewers haven't heard anything of it, "a club official said he wouldn't be surprised if that's his decision."
The reason this is coming out of Milwaukee is that Mulder had been flirting with joining the Brewers this winter due to his connection to Brewers' pitching coach Rick Peterson, but it's not happening now.
Mulder, of course, came up as one of the "Big Three" alongside Tim Hudson and Barry Zito in Oakland. You know, the guys who got surprisingly little press while they took turns winning 20 games and carrying the team while their general manager was being canonized for trading for John Mabry. OK, I kid Moneyball because I kid everyone, but really, the extent to which the Big Three were overlooked on those take-and-rake A's teams borders on the criminal.
And Mulder may have been the most overlooked of the Big Three.  Hudson was considered the ace and Zito got his gigantic contract, but Mulder was a damn fine pitcher there for a couple of years. He won 21 games in 2001 and 19 the next year while keeping the ball in the yard, posting some pretty healthy K/BB ratios and pitching well in the playoffs.
Sadly, his shoulder went pop a year after joining the Cardinals. After a good 2005 season, 2006 was cut short, 2007 and 2008 were near total losses for him. He didn't pitch at all last year.
While Zito still chugs along in San Francisco and Hudson looks to be on the comeback trail in Atlanta, Mark Mulder's long absence from the stage makes him seem so much older than the 32 he is. It's a shame we didn't get to see more of him.