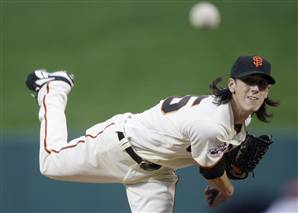 So did Tim Lincecum's new deal match the all-time record for first year arbitration players or not?  Well, it depends on who you ask.
I hadn't realized this before, but I'm told that, for their own particular bookkeeping reasons, the MLBPA
values signing bonuses as applying to the first year of the deal in
their entirety while Major League Baseball prorates them over
the life of the deal. As such, Major League Baseball can — under their own accounting rules — declare victory in the Lincecum deal because, according to them, Tim Lincecum's contract for 2010 will not match Ryan Howard's record of $10 million, falling just short with an $8 million salary and a $1 million bonus. The union, however, can claim that Howard's deal was matched with an $8 million salary and a $2 million bonus.
Ultimately this is all semantics, of course.  Sure, MLB's construction sort of ignores the time value of money, but we're only talking about, what, $75K here? Lincecum will probably spend more than that on Bob Marley albums, incense and Taco Bell runs in 2010.
Still, the fact that the numbers came out where they did, thereby allowing this little $10 million game, strongly suggests that the precedential cum political concerns surrounding Lincecum's arbitration mattered a whole hell of a lot to the people involved.  Which I think is kind of stupid, really, because this should all be about what Tim Lincecum is worth, not the league and the union declaring victory.  But then again, no one asked me.