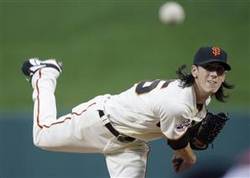 Buster Olney tweeted something really interesting a few minutes ago:
Heard this: The
Giants might wind up sending as few as one member of their front office
to the Lincecum hearing. The heavy lifting on management's side of the case will be done by MLB, and not the Giants.

This follows up on the news that union head Michael Weiner will be at the arbitration as well.
In light of all that this proceeding seems less like a dispute about the value of Tim Lincecum's services to the Giants and more like a proxy war with the union and MLB playing the role of the Soviets and the U.S. — take your pick as to who's who — and Lincecum and the Giants playing the role of some rightest regime and leftist insurgency.  It's more about politics than it is about the conditions on the ground.
Which is understandable, I suppose. Major League Baseball obviously wants to do everything it can to keep
a high-salary precedent from being set and the union obviously wants a new
high-salary bogey benchmark.  In light of that I assume that all of five minutes will be spent on Lincecum's stats with the rest of it being spent in intellectual debate as to what, in an ideal world, the best arbitration-eligible player should make.
Which may be fun — livin' on an abstract plain can be fun — but I can't help but think that the arbitration process was designed to avoid these sorts of political disputes and, rather, to provide a streamlined mechanism for Player A and Team B to agree on a salary without all the drama.