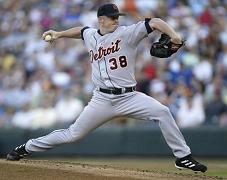 Give a guy $80 million and he'll wear any hat you want him to. Starter. Team leader. Scout:
Justin Verlander said the throws have life on them, more than he
saw last year. He talked about making adjustments, going back to the
basics. He's really excited about the progress. He wasn't talking about himself. He was talking about Jeremy Bonderman . . .

. . . "We play catch together most of the time, and he's got a lot of life on
the ball," Verlander said last week. "And that's something that I
hadn't seen over the last year or so. I'm really excited about where
he's headed."
Verlander, Porcello, Scherzer are a nice start, but an effective Jeremy Bonderman could be the difference between Detroit winning the division or coming in third.
Still, we're deep into "best shape of his life" season, so it's too early to get excited about this sort of thing.