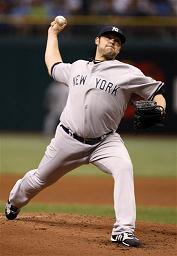 Yankees' pitching coach Dave Eiland confirmed yesterday that "The Joba Rules" are officially history:
"He's just going to go out and pitch and he'll be the one who'll
dictate when he comes out as far as getting hit or getting tired or
losing his stuff. He's not going to have any restrictions, so Joe (Girardi) and I are
not going to have to go into the game thinking, 'Oh, he's got 85
pitches or six innings or whatever comes first.' We don't have to game
plan it out. The kid gloves are off, and he's just going to go out and
pitch and he knows that and he's going to come in and be all geared up
to win that job, as are the other guys. Competition should bring out
the best in everyone."
Eiland added that he believed that the pitch and innings counts and kid gloves hindered Chamberlain's performance as a starter, which is a drum I and many others have been banging for some time.
As for the competition Eiland mentions, the other day a commenter here — whose name I'm forgetting, sorry — made one of those points that are so obvious that I can't believe people don't say it more often: if the Yankees truly intended to make Chamberlain a reliever, why would they have stuck to the Joba Rules as slavishly as they did these past few years?
Indeed, it wouldn't shock me if Brian Cashman had some super secret notebook in his office which has Chamberlain was already written down as the fifth starter.  In permanent marker.