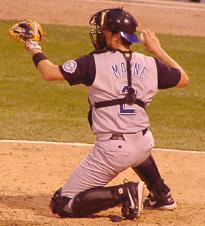 UPDATE: Mayne has corrected the record.
I mentioned a couple of weeks ago that I was lovin' former catcher Brent Mayne's blog. And I still am, but I just discovered that he's tellin' lies.
In his latest entry he decides to come clean and admit that he once told a hitter what pitch was coming. It was J.T. Snow.  Here's Mayne's story:
It was my second year in the Bigs and we were playing the Yankees in
Kansas City towards the end of the season. Neither team had much to
play for and JT was one of the expanded roster call-ups for the Yanks . . . I wandered out to talk to the pitcher (I can't remember who it was.) On
my way back, as I past JT to squat down, I mumbled at him "fastball
outside." He promptly drilled a double to left field and that was that.
Like I said, that's probably not why he got his first hit, he may have
been too nervous to even hear me. Then again, maybe that IS how he got his first hit and maybe I'M responsible for his whole career.
I love stories like that!  Sadly, however, it appears to be a complete and total fabrication.  Well, maybe that's overstating things. J.T. Snow did make his major league debut with the Yankees against the Royals at the end of a season.  It's just everything after that which is wrong.
Look, I'm not trying to embarrass Mayne here. His blog is a blast, and this particular post is almost 100% redeemed by the reference to "The Jerk" at the end.  But still, one of the things that makes it hard to make any progress in analyzing and commenting on baseball is that there's 150 years of accumulated baloney floating around that everyone takes as gospel.
Stuff like Mayne's story is harmless, but how much of the rest of it isn't, and how much history and insight have we lost because people have chosen to believe the myths instead of the facts, even if it's understandable that they've done so?