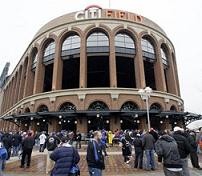 The wall was sixteen feet high last year. Now it's going to be eight feet, says Adam Rubin of the Daily News. David Wright is probably happy. Johan Santana is probably sad.  And so it goes.
But here's a question: what are the Mets going to do for their other 81 games? After all, they were last in road home runs too. And as Rubin notes, more homers were hit per game in Citi Field than in Atlanta, San Diego, Los Angeles and St. Louis. Visitors hit more homers in Citi Field in 2009 than they did in Shea Stadium in 2008.
The Mets' real problem last year was not their field. It was the can't-hit-a-lick lineup they sent out there most days.  A lineup that was pressed into service due to a multitude of injuries. A lineup which everyone concedes was a worst case scenario.  A lineup, in other words, whose performance should not be the basis on which a team makes fundamental decisions about the configuration of their park.
But then again these are the Mets, and making sound, reasoned decisions just isn't their bag, baby.