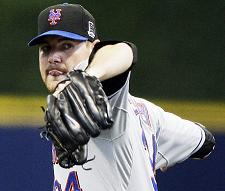 Add Mets' pitcher Mike Pelfrey to the list of this offseason's biggest losers:
One week until Fat Tuesday, but Mike Pelfrey won't be participating. The
Mets pitcher is prepared to arrive in camp next week some 25 pounds
lighter than last season and believes that will propel him to new
heights after a disappointing 2009.

"I was pretty upset with not
only how the team played, but with how I played last year, knowing
that's not me," Pelfrey told The Post yesterday. "I had a lost year. I
had a terrible year."
A couple of years ago someone — I can't remember who — did an analysis of how guys did in the seasons after "best shape of his life" articles appeared about him during the spring.  I seem to recall that there actually was an uptick in performance among the newly-dedicated, albeit not a dramatic one.  Enough to make me want to go back and see how Carlos Zambrano, Bobby Jenks, Geovany Soto and Pelfrey did this season come October.  Someone remind me, OK?
As for Pelfrey, I think he will bounce back, if not for the weight, than because he seemed a bit unlucky last year.  He gave up a lot of hits on balls in play, which is something that fluctuates. Also, the poor Mets infield defense victimizes him more than his teammates. That won't change too much in 2010 — he still doesn't strike out a ton of guys and the Mets didn't upgrade the defense any — but maybe a few more balls bounce in his favor.
And if he does bounce back we can chalk it up to the weight loss anyway because it'll make him feel good and encourage him to lay off the pie again next winter.