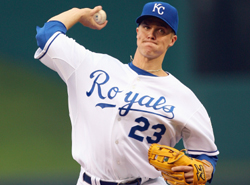 I know it's quite an honor for a guy to be given the Opening Day start — hell, if you listen to Jack Morris' Hall of Fame supporters, Opening Day starts are more important than wins, strikeouts and ERA — but really, it's just one game. And it's one that you're probably going to sell out anyway, because it's, you know, Opening Day.
So if you have a box office draw as your ace like the Royals do in Zack Greinke, wouldn't it make better economic sense to start him in the second Game of the season, thereby guaranteeing two sell outs instead of just one? As it is, Trey Hillman has decided to go with Greinke on Opening Day. What a terrible business decision.
OK, I can't keep a straight face. If the Royals had implemented such a cynical line of reasoning, hadn't made Greinke their Opening Day starter and deprived us of Greinke vs. Justin Verlander, I would have led the mob to the gates.  I've heard some people talk about such a thing jokingly, however, and wanted to try it on for size. It doesn't fit very well. I don't think there will be an Opening Day matchup as good anywhere else, and I can't wait for it.
In other news, I'm starting to get really excited about the season.