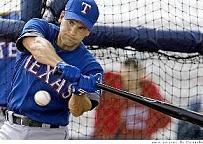 I haven't gotten this misty since Apollo Creed let Rocky wear his red white and blue trunks for the Clubber Lang rematch:
The White Sox announced Monday that Aparicio has given his consent for
Omar Vizquel to wear No. 11 in his first year with the White Sox, as
the number will be un-retired by the organization for Vizquel to wear
in tribute.

"If there is one player who I would like to see wear my uniform
number with the White Sox, it is Omar Vizquel," said Aparicio in his
statement released Monday.  "I have known Omar for a long time.  Along
with being an outstanding player, he is a good and decent man."
Now all that needs to happen is for Aparicio to come out of retirement, get taken out on the turn at short by the baseball equivalent of Ivan Drago, die from his injuries, have Omar train like a madman to some bad Robert Tepper song and then take revenge "like piece of iron."
Which raises the question: who's the baseball equivalent of Ivan Drago?
Which raises another question: when is Bill Simmons gonna sue me for stealing his shtick?