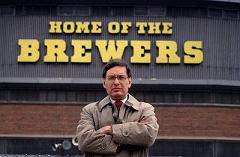 From the Brewers' official PR Twitter account:
Brewers announce
it will honor MLB Commissioner & former owner Bud Selig with statue
at Miller Park's Home Plate Plaza, unveil set for 8/24.
OK, first off, let's put an end to the snark-fest that has already started.  You and I can could mock this if it was a statue dedicated to Bud Selig the Commissioner of Baseball. We could say things like this should be the pose in which the statue should be cast. We can say that no Commissioner who presided over the cancellation of a World Series should be honored. But that would be wrong. Why? Because Bud Selig was an owner first, this statue is to honor him as an owner and in that capacity he probably deserves it.
Selig was a minority owner of the Milwaukee Braves, who for a while there were beloved in Milwaukee.  When the majority owners started casting about to find a place to move the team, Selig worked in vain to keep them in town.  As soon as that effort failed, he formed a group to try and get Milwaukee another team. He managed to get the Pilots. And before you accuse Selig of being a team-stealer, remember that (a) the Pilots were going bankrupt there anyway; and (b) if the Pilots didn't cease to be, "Ball Four" would be way less fun.
The Brewers were successful when he was an active owner. They played in a World Series. The city fell in love with them, and though that love has ebbed and flowed depending on the record, I'd wager that fan loyalty is greater in Milwaukee than it is in the majority of major league cities. This is a gut feeling but it's backed up by anecdotal evidence.  For example, Jonah Keri just tweeted something interesting:
Went to Brewers game in 90s, Bud emerged from box during 7th inning stretch. EVERYONE started chanting BUD! BUD! Seriously.

Bud may be a cold fish. Bud may not be as great a commissioner as his supporters in the game and the media make him out to be.  But he's Milwaukee's cold fish commissioner, and there are people there who love the guy. And even if they don't, they love the team he brought them and helped build into a winner.
Is that not statue-worthy? I kind of think it is.