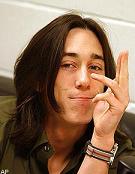 It's not like there's some kind of Nazarite oath afoot here that will sap Tim Lincecum of all of his power in the event his locks are shorn, but I still don't like this one bit:
His hair is 3 inches shorter. He said he cut it before last month's
baseball writers' banquet in New York because "it looked unhealthy."
In other news, Lincecum says says that he's currently storing his two Cy Young awards in the backseat of his car.
If I worked for the Giants and was preparing for the arbitration I'd stay away from the "Lincecum hasn't earned a $13 million salary" argument because that's just false.  I would, however, try out a "Lincecum wouldn't know what to do with $13 million even if he had it" argument.  Dude doesn't even have a bookshelf.