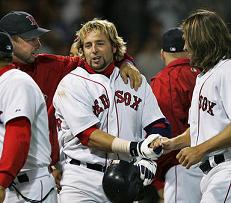 Kevin Millar makes the case for his value to the Cubs:
"Everybody is looking at stats … I get it. But my point is when you're making a team
and trying to bring in a bunch of different personalities I think
everybody's got a certain amount of intangibles that they bring.

"Obviously, I'll bring some leadership qualities. I've won a World
Series. Having a chance to play with guys like Ryan Dempster and Derrek
Lee, we came up together in Florida. It's trying to make a family
atmosphere and trying to get everybody to pull on the same rope and
trying to get everybody to believe that we can do this."
There's a saying among lawyers: when the facts are on your side, argue the facts. When the law is on your side, argue the law.  In Millar's case you can substitute with "skills" and "chemistry."  The skills, unfortunately, are no longer there:  Millar is a first base/DH type who can't hit enough to carry that job, and there's little reason to think that he'll add anything positive from a baseball prospective to the Cubs' 2010 season.  It appears based on his comments that even he knows that, and to that extent it's actually refreshing to hear that he is not deluded about his abilities the way so many other close-to-the-end ballplayers have been before him.
But what about the chemistry? Does it matter? Is it worth giving Millar a spot on the roster?
I won't go so far as some of my sabermetic colleagues and suggest that chemistry is totally  meaningless. After all, we've all worked with jerks before, and while a jerk can't necessarily make you any less good at your job, in the aggregate, one can bring down the group's performance.  By all accounts, Kevin Millar is a great guy to have in the clubhouse, and as long as you're not giving him too many plate appearances, it's nice to have a fun guy around, especially after a summer with Milton Bradley on the team.
But really, chemistry is almost always a retrospective application that, in the context of baseball, approaches meaningless.  Teams that win are later said to have good chemistry (except when they don't have good chemistry).  I've yet to hear anyone refer to a team that went 76-86 as having good chemistry. And of course, unlike basketball and football, where the whole concept of chemistry was probably invented, baseball has comparatively few true "teamwork" moments. You basically have the double play and relay throws and a whole bunch of individual as opposed to team moments.
At the end of the day, you have to ask: would anyone be talking about Kevin Millar and all of the intangibles he brings to the table if Dave Roberts had been tagged out at second in Game 5 of the 2004 ALCS?