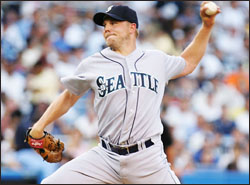 It's not been a great offseason for Jarrod Washburn.  Rumored at various times to be going various places, Washburn still doesn't have a job.  The two teams most prominently mentioned in Washburn rumors — the Twins and Mariners — don't seem particularly interested in him.  In light of that, Jon Paul Morosi reports that Washburn may just hang it up:
So now what for Washburn?

It remains possible that Seattle or
Minnesota could boost its payroll by enough money to give Washburn an
enticing one-year offer. If that doesn't happen, and if Washburn doesn't want to play elsewhere, he has a third option.

Retirement.  It
sounds extreme, yes. But one major league source said Thursday that the
left-hander might decide to stay home in Wisconsin if he doesn't get
the right offer from the right team.
I don't know if Jarrod Washburn deserves a Major League job. He's not as good as he looked in the first half of last year and he was pretty terrible for Detroit after the trade. He's also reported to not be particularly motivated to play for anyone but Minnesota — where he lives — or Seattle, where he prospered.  It may just be the end of the line for him.
But I can't help but wonder if one more factor is at play here, and that's his agent. Fella by the name of Scott Boras, who doesn't seem like he would be the best representation if you, like Washburn, were in a position where the difference between getting a job and not getting a job is your willingness to go to a team with hat in hands.