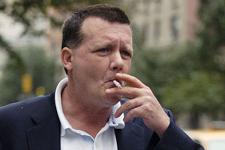 All of the Yankees brass is in the far east on a goodwill tour, leaving Hank Steinbrenner back home to mind the store.  A reporter caught up with him, no doubt hoping that with his minders away Hank would revert to 2008 form and bring the crazy.  Take it away Hankenstein!
"The two trades that Brian did, I was really pleased with and very proud of," Steinbrenner said. "I think that is going to make a big difference for us."

Steinbrenner was particularly supportive of the deal for Vazquez, in which the Yankees gave up Melky Cabrera and minor league pitchers Mike Dunn and Arodys Vizcaino. The general partner and co-chairman of the Yankees believes that the acquisition of Vazquez was more critical toward defending their championship than not bringing back Johnny Damon or Hideki Matsui.

"We needed another top-notch starter and got one," said Steinbrenner.
He also said that Derek Jeter is a good baseball player and is important to the Yankees and everything. He probably also said that the sky was blue, water is wet and cornbread is tasty.
In other words, it appears as though Hal left his brother with enough medication to last until he returns. A shame, really. I miss the old Hank.