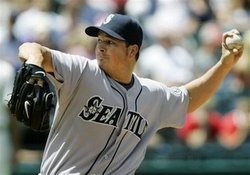 UPDATE: Now Jon Paul Morosi reports that, yes, they M's and Bedard are close to a one year deal, though at this rate that could change five times by dinner.
And with that I've just about had it with the Hot Stove season.  Someone sign Johnny Damon, everyone else start playing long toss and doing wind sprints and let's get down to some freakin' baseball, OK?
3:18 P.M.:  Larry LaRue of the News-Tribune spoke with Bedard, who says no, the Mariners have not made an offer, contradicting Jim Street's earlier reports (see below).  There is mutual interest, but at this point, nothin's happening.
At this point I'd like to ask the question Aaron asked the other day:  If the erroneous report had come from a blogger rather than a guy with a long newspaper pedigree like Street, wouldn't people be beefing about it?  I kinda think they would. 
9:57 A.M.: MLB.com's Jim Street is reporting that the Mariners and Erik Bedard have reached an incentive-laden deal for 2010. Base: $1.5 million.  Bedard, as you are no doubt aware, Bedard is coming off of shoulder surgery and won't be ready to go to start the season.  He pitched well last year before getting hurt, and assuming there are no hiccups in rehab, having him join the rotation in, say, July, would be like making a big trade or something. And this time the Mariners wouldn't have to give up Adam Jones for him!
But before any Mariners (or Bedard fans, or Bedard's mom) gets excited about this, it's worth noting that Street's report — two reports mashed into one blog post, actually — have been a bit squirrelly. Yesterday he referred to the potential deal as "rumblings in blogo-land."  Today he says he heard it from another writer.  It's all less concrete than even your typically mushy hot stove reports.
Blogo-land?