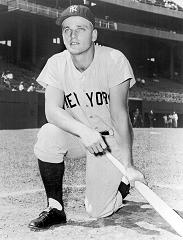 A billboard company in North Dakota has decided to give Roger Maris his due:
A North Dakota billboard company has erected a pair of
signs in Fargo honoring local hero Roger Maris, whose record 61 home
runs in 1961 have long been clouded with an asterisk.

Because he clubbed the homers in more games than Babe Ruth's record
60, the baseball Hall of Fame has never recognized his feat, much less
admitted him to Cooperstown . . .The billboards feature a picture of Maris during his days as a New
York Yankee and the slogan, "Fargo's Maris 'Legitimate' Home Run King."
Apart from the fact that (a) there never was any asterisk applied to Maris' record; (b) the Hall of Fame has most certainly recognized his feat; and (c) if the billboard copy mentioned above is accurate, this is a wonderful example of superfluous quotation marks, which always seem to warm my heart for some reason, this is just fine.  Certainly beats a big empty billboard with a "rent me" sign on it.