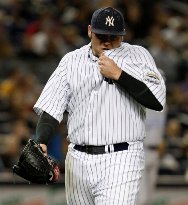 Joel Sherman says that while the Yankees may be talking about how the fifth starter's job is shaping up as a battle between Job Chamberlain and Phil Hughes, it's all but Hughes' job already:
The Yankees never would admit it publicly, but if the season were to
begin today, Hughes would be in the rotation and Joba would be Mariano Rivera's primary set-up man — and, perhaps, heir apparent . . .

. . . This is not easy for the Yanks. They truly have believed
Chamberlain's pitch inventory was that of a starter. Plus, they have
endured the criticism of the Joba Rules to navigate to this moment when
he would have few restrictions as a starter.

But by morphing
back into a confident, dart-throwing reliever in the postseason,
Chamberlain has pushed the Yanks to more seriously consider that he
might not have been suffering rotation growing pains and, instead,
simply is more temperamentally built to work out of the pen.
If this is true, and the Yankees have already decided that Chamberlain will be a setup man going forward, then they have all but killed a promising starter's career before it ever truly began.
The Yankees have never given Chamberlain a true chance in my opinion. Sure, he had 31 starts last year, but that number is deceiving. At the end of July he had an ERA of 3.58 and put together a couple of promising starts. By the end of August, however, the Yankees were limiting his innings, messing
with his rest and generally treating him like some special case.
Sherman's piece claims that Chamberlain was pitching tentatively and without confidence.  Of course he was! He was being asked to pitch in a way that was foreign to him and anyone else in the game. He had been turned into a four-inning pitcher. He knew going in to every game that
he was going to be yanked early. Such a thing had to mess with his preparation and approach. I believe that to the extent Chamberlain had problems in the second half they were due in large part to being
jerked around.  And really, he's been jerked around for three years.
Sherman may be right, and it may be inevitable that the Yankees are going to permanently turn Chamberlain into a reliever. I can't help but think, however, that if they had simply given the guy a
slot in the rotation, left him alone, and allowed him to pitch without putting him under the
microscope, they would be entering spring training with a guy poised to become a top of the rotation starter, not an eighth inning guy.