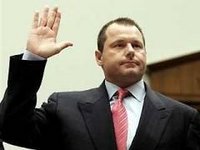 Roger Clemens apparently has been watching Animal House.
Bluto: Was it over when the Germans bombed Pearl Harbor? Hell no!
Otter: Germans?
Boon: Forget it he's rolling
The Rocket is rolling, and he's not giving up. Nothing is over until he says it is, including his battle with former trainer Brian McNamee.
Seeking to revive the lawsuit against his former trainer Brian McNamee – a suit that is now on life support – Clemens has appealed a federal judge's 2009 ruling that gutted the defamation case Clemens filed against McNamee three weeks after the Mitchell Report was published.
The argument from Clemens' legal team offers all sorts of reasons why the case should go forward, which I'll let you read about over at the New York Daily News. Meanwhile, McNamee has filed his own defamation suit against Clemens, which is pending in U.S. District Court in Brooklyn.
So not only are both of these guys unlikable men of questionable character, they're also quite litigious, which is good news for the lawyers of the world. Rooting for a winner in this legal rumble is like trying to choose between bunions and hammer toes as your favorite arthritic foot condition.
Remember when Andy Pettitte was accused of using steroids? Remember how he admitted it, then everyone forgot about it, because nobody really cares? Ah, the good old days.
Are you on Twitter? You can follow Bob here, and get all your CTB updates here.