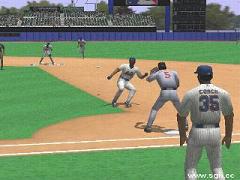 I don't play any baseball video games anymore, but there was a time when I played them pretty obsessively. I was particularly fond of High Heat Baseball 199. The only thing I couldn't figure out was why the closer for my Braves — Kerry Ligtenberg — wasn't on it. It was some guy named "Terry Lyte."  And who was this "Rob Mayday" in the A's bullpen? Kotaku provided the background in an interesting post over the weekend:
Fifteen years ago, in the infancy of console sports simulations, 38 baseball players made a choice that would ensure they would never appear in a video game. Only five of them remain in the major leagues.

They crossed a picket line, an act of war to organized labor, by signing replacement player contracts with Major League clubs as the infamous 1994 players' strike dragged into the spring of 1995. Just five of them logged major league service in 2009 and they're all 38 years old or older. But the continued absence of their names in games is one of the last persistent vestiges of the baseball strike of 1994 and 1995.
The five remaining are Brendan Donnelly, Matt Herges, Ron Mahay — ah, that's Rob Mayday! — Jamie Walker and Kevin Millar.  There used to be many more of course, and all of them went or still go by aliases on MLBPA-licensed games because they're not members of the union, and they can never be members of the union because of their failed attempt at strike breaking.
I'm less interested in how this impacts video games than I am in what this means for union and labor issues, but the Kotaku posts covers most the bases in terms of the ethics of all of that too. The biggest question: should the union have let it go a long time ago and admitted the replacement players, or should they remain blackballed in order to set a firm precedent in the interests of union solidarity?
I don't know that there is a right and a wrong answer here.  On the one hand I was brought up sympathetic to the union cause, so I understand the dynamics in play on the side of labor, and they apply even in a high-salaried shop like the MLBPA. On the other hand, these guys weren't just handed jobs due to their strike-breaking, and after the dust settled they had to earn their way on to rosters just like anyone else, so it's hard to say they haven't done their time, as it were.