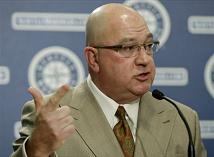 The New York Post's Joel Sherman writes this morning about how the Mets screwed up by passing over Seattle Mariners' GM Jack Zduriencik back when he worked for the club. Let's go back to the fall of 1997:
Because he was good with computers and had ties to Sandy Koufax — a real bonus in the Dodger-centric world of Koufax pal Fred Wilpon — Gary LaRocque was named the director of amateur scouting. That was the job Jack Zduriencik deserved. Instead — despite being employed significantly longer with the Mets than even Phillips — he was shuffled from farm director to special assistant to the general manager.

So at that moment Phillips, Minaya, Duquette and Zduriencik all had relatively new roles. Three would ultimately hold the title of Mets GM. One would not. That guy looks like, by far, the best of the group.
I'll grant that, based on everything we've seen, having Zduriencik as your GM would be better than having Steve Phillips, Omar Minaya and Jim Duquette there, but there are limits to this sort of "we could have had that guy" complaint.
Unlike players, who you can mostly figure would do as well with one team as they would have with another, I don't think you can simply assume that an executive's apparent genius with one club would have manifested itself on another. Mentoring matters when it comes to the development of decision makers, as does the relative level of autonomy they're given, their experiences and the people with whom they're surrounded. Warren Buffett worked at a grocery store when he was a kid. You can't say that it would be competing with Safeway now if they had only held on to him because, you know, things happened to the guy in between then and now.
While Zduriencik's path from New York to Seattle was a lot shorter and more direct than Buffet's, it's certain that the things he learned as the Director of International Operations for the Dodgers and during his nine years in various roles for the Brewers made him a different man today than he would have been if he had stayed with the Mets. Maybe they would have made him the GM five years ago and maybe he wouldn't have been ready.  Maybe — hell, probably — the most important things that led to him becoming a successful general manager happened to him while he was working in Milwaukee and never would have happened to him had he stayed in Queens.
So while I greatly appreciate this brand of rabble rousing — indeed, there's nothing much more fun to me than helping Mets fans come to grips with their misery — I think the we-could've-had-Zduriencik beef is more an exercise in hindsight than it is a legitimate criticism of the team.