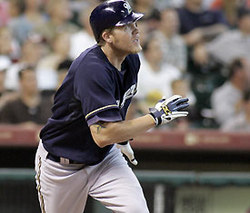 At least if the words of team negotiator Teddy Werner are to be believed. The two sides will likely head to an arbitration hearing after the Brewers pulled their latest offer to outfielder Corey Hart, reports Tom Haudricourt of the Milwaukee Journal Sentinel.
"We made a final offer that we thought was a good offer," said Werner.
"It's significantly higher than the number we filed. They didn't like
it. I said, 'See you in Tampa in a couple of weeks.'"
Hart requested $4.8 million while the Brewers filed for $4.15 million when arbitration figures were exchanged last week. As Haudricourt notes, the Brewers have never went to an arbitration hearing under general manager Doug Melvin.
"Maybe they think we're bluffing," said Werner. "But we're not."
Hart is nowhere near as indispensable as a Tim Lincecum, but there's a lot to lose for both sides if this goes to a hearing. The nature of such hearings can have long-lasting effects on the relationship between an organization and its player. Hart's game has plenty of faults, and the Brewers will be sure to point them out if it comes to it.