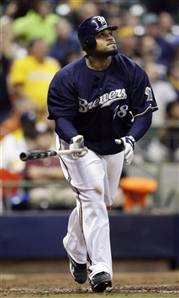 Adam McCalvy of MLB.com reports that the Brewers are already engaging agent Scott Boras in some preliminary discussions about a long-term contract for Prince Fielder.
Fielder, who turns 26 in May, is under team control for two more seasons. As McCalvy aptly points out, there's no real precedent for Boras to advise one of his clients against testing the open market, but Fielder doesn't dismiss the notion at all.
"In the end, it's my decision. But as my agent, he's
going to make sure that I have the most information possible about
what's going to benefit me and my family. That's what it's about first.
My family has to be happy, and then I go from there. There's no urgency right now as far as that."
These sound like some pretty canned remarks, consistent with a player contemplating free agency, but consider that fellow first basemen Albert Pujols, Ryan Howard and Adrian Gonzalez could also hit the open market after the 2011 season. If all four stay healthy, they'll attract large contracts from some of the game's biggest spenders. One or two of them could agree to an extension before hitting free agency, but if they don't, position scarcity could have a lot to say about where each of them end up. As of now, it figures to be quite a unique offseason.