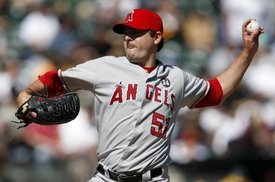 – The Angels and Joe Saunders avoided arbitration on Friday by agreeing to a one-year, $3.7 million contract. The 28-year-old southpaw asked for $3.85 million and was offered $3.6 million when arbitration figures were exchanged last week, so he settled for a little less than the midpoint. Saunders was 16-7 with a 4.60 ERA in 31 starts last season. He was 7-0 with a 2.55 ERA over his final eight starts after serving a stint on the disabled list due to a shoulder irritation.
– The Rangers and Scott Feldman avoided arbitration by agreeing to terms on a one-year, $2,425,000 contract. Feldman, who was arbitration-eligible for the first time this winter, asked for $2.9 million and was offered $2.05 million when figures were released last week. Though he didn't start the season in the rotation, the 26-year-old right-hander surprised by finishing 17-8 with a 4.08 ERA and 1.28 WHIP. He's not nearly as good as the wins would have you think, but as Fangraphs astutely pointed out, his cut fastball was worth 25.9 runs last season, leading the majors. Yes, even better more than Mariano Rivera.
– Finally, the Athletics inked right-hander Michael Wuertz to a two-year, $5.25 million contract with a $3.5 million club option for 2012. According to Susan Slusser of the San Francisco Chronicle, the 31-year-old right-hander will earn $2.2 million in 2010 and $2.8 million in 2011. The Athletics can buy out the option for $250,000. Wuertz compiled a 2.63 ERA, 0.95 WHIP and 102/23 K/BB ratio in 78 2/3 innings with the Athletics last season, emerging as one of the best set-up men in the majors.