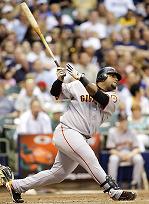 Last night Pablo Sandoval was in San Jose to drop the puck before the San Jose Sharks-Chicago Blackhawks game. Because of that, other Giants' promotional obligations and the team's desire to get his beefy butt back into Camp Panda, it was assumed that he would not be participating in tonight's deciding game of the Venezuelan championship series between the Navegantes del Magallanes and the Leones de Caracas.
But wait? What's that?! Why, that– that's Kung-Fu Panda's music!!!  That's right. Pablo Sandoval just arrived at the ballpark in Caracas via helicopter to lead Navegantes del Magallanes into battle.  And it gets better: El Nacional reporter Alexander Mendoza reports that his flight was coordinated by the Venezuelan government just for the occasion.
Of course, it probably helps that Navegantes del Magallanes is reported to be President Hugo Chavez's favorite team . . .