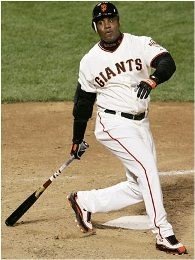 Before we get to that, some followup from Mike Bacsik, who was accused by former teammate Tim Redding yesterday of grooving home run 756 to Barry Bonds. Bacsik tweets:
For everyone on my page that needs a denial; I didn't try to give up the homerun. I was crappy enough to do it without trying . . . If somebody would
have asked me, what teammate will say you tried to give up a homerun?
After laughing my answer would have been Tim Redding.
I still don't know or frankly really care of Bacsik served up a fat one to Bonds, but (a) I like his sense of humor; and (b) he's not the first guy to slam Tim Redding for being something of a horse's ass.
In other news — old news, anyway — Jake Peavy doesn't need anyone to accuse him of grooving one to Barry Bonds. He admitted it freely a couple of years ago:

"Obviously,
everyone in the ballpark knew that was going to be Barry's last
at-bat," Peavy recalled. "Me and Barry being buddies, I wanted to take
care of him in his old ballpark. I wanted to give him as good a
send-off as he could have. That being said, I couldn't throw cookies up
there all night because we had to win. But we were able to get a 9-2
lead, and I'm facing Barry knowing this was going to be his last at-bat.

"At that point, I knew we were going to win that game and he knew I
was going to give him a good pitch to hit. He didn't have to guess what
was coming: a fastball. He took a good shot at it and just missed it.
We had a good little exchange there. We would've done that whether it
had been on the field or not. But he wanted the fans to be a part of us
paying our respect to each other."
Mickey Mantle was grooved one near the end too.  And I'm not sure I have any problem with that kind of stuff. One of the things that
separates baseball from the lesser sports is that there is more room for
friendship and camaraderie, even on the actual field of play. The way I see it, if it's only a once-in-a-blue-moon thing, and if it's not affecting the outcome of a game, no harm, no
foul.  I appreciate that I may be in the minority on that, but that's nothing new.
(thanks to lar for the Peavy link)