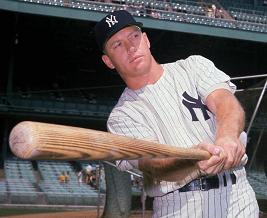 There's a conventional wisdom among a lot professional sports writers that you should ignore your comments section. It'll only make you mad, they say. People complaining, and all that.
I think that's hogwash. Sure, making a comments section a pleasant place to hang around is tough work, especially on a big media site like NBC, but if you set a good example, encourage the good commenters and manage to get the worst elements under control you'll be handsomely rewarded with good conversation, analysis, constructive criticism and, occasionally, some great stories.
Got one today, courtesy of one of CTB's most notable commenters, Old Gator (the guy who from Macondo who goes on about the horse meat and Velveeta sandwiches in Philly). It came in the comments below the Jake Peavy post, it's about Mickey Mantle and I'll let Gator tell it in his own words:
A great true and I will bet hitherto undisclosed Mickey Mantle story
that was told to me by Eric Blau, author of "Jacques Brel is Alive and
Well and Living in Paris" among other plays and novels.

Way back when
Eric was a struggling young writer, he got a job for Topps writing
little booklets to be inserted in their bubblegum and baseball card
packs – booklets with titles like "How I Pitch" by Whitey Ford, "How I
Catch" by Yogi Berra, and "How I Hit" by Mickey Mantle. He got to
interview each one of those guys briefly in gathering his information
for these booklets. During his interview with Mantle at a bar in
Manhattan, they both had one too many drinks, but Eric was able to make
some sense of what Mantle told him from his notes and wrote the booklet.

Some months later, Mantle was mired in one of the worst slumps of his life. He tried just about everything
to break out of it. Then one night, around three A.M., Eric's phone
rings. He answers it, and it's Mantle, stewed to the gills.

"Hey
Ewric," Mantle slurs, "I wed your brook."

"Uh, yeah?" Eric mutters.

"You're full of shit," Mantle exclaims and hangs up.
There aren't a lot of commenters like Old Gator, but if you ignore your comments section, fellow writers, you risk missing out on that kind of gold.