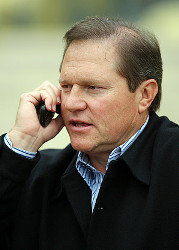 In the wake of the Yankees doing the moonwalk from Johnny Damon and signing Randy Winn, Scott Boras is trying to spin, but he's doing a bad job of it.  First Boras:
"The Yankees never even made an offer to me regarding Johnny Damon
during the entire process, and the reason for that is they had
budgetary constraints."
Um, Scott, that's not what your client said last month:
Damon said in a text message Friday that the Yankees had offered two
years and $14 million, while he had offered to return for two years and
$20 million. That was true, a Yankees official confirmed.
Confronted with that inconsistency, Boras says "that it was not an offer, because the Yankees told him they needed to hear from Johnson first."
Which smells like high-grade horse manure.  I mean, really, why on Earth would the Yankees make a non-offer, or whatever Boras wants to call it, to Damon while they were still waiting to hear from Johnson?  Damon thinks it was an offer. The Yankees think it was an offer. The only one who doesn't think it was an offer is Boras, who right now is the one running for cover.
My suspicion is that what really happened was that (1) the Yankees offered Damon $14 million; (2) Boras rejected it and (3) the Yankees moved on to Nick Johnson, possibly telling Boras that they'd talk again if Johnson got away, but by no means holding some contingent whatever-it-was open in the interim.  This seems to be borne out by Brian Cashman's account: "On Dec. 17, Scott's exact words were that he would not take a penny
less than $13 million a year for two years. We believed
him."  Nick Johnson signed on December 18th.
Rosenthal read today's Times story and sums it up pretty succinctly: "There is simply no excuse for a player of this quality to be in such a compromised position."  I agree. That player was compromised by an agent's spectacular failure to understand his client's market.