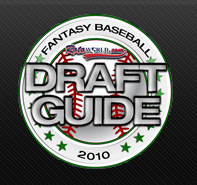 We interrupt this program for some shameless promotion. Partially self-promotion, actually, which you're used to from me by now, so it shouldn't be a big deal.  Anyway:
As you all know, Aaron, Matthew, D.J., Drew and many others spend a huge amount of their time making your fantasy baseball life better over at Rotoworld.  Their biggest labor of love with that stuff, however, is putting together the annual Rotoworld Fantasy Baseball Draft Guide.  The 2010 edition is on sale now, and it's more than worth the Andrew Jackson plus shipping they're asking for it.
What do you get for your money? Plenty: analysis, projections, and profiles for over 1,000 players ranging down to A-ball.  Articles covering prospects, keeper-league strategies, mock drafts, sleepers and busts. There are customizable, printable cheat sheets, updated depth charts for
all teams and all manner of other goodness.
I'm a fantasy baseball moron, but I wrote a couple of articles for the thing too, most notably the 2010 "Year in Preview" in which I make hilarious predictions of what might come to pass this year, such as "Joe Mauer gets his tongue stuck to the flag pole of Target Field, 'Christmas Story'-style following a triple dog dare." Of course, the piece went to press before the McGwire stuff broke, rendering my "hilarious" prediction that, no matter how much candor McGwire displays, reporters will still call for him to "come clean" and call him a "distraction" less humorous than prescient. This could bode ill for Joe Mauer.
Anyway, I don't try to sell you a lot of stuff around here, but the Rotoworld Draft guide is definitely worth buying.  Details here. Order here. Operators are out having a smoke break, so some automated order-fulfillment application is standing by!