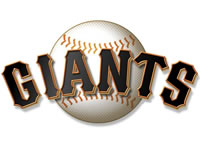 Repoz over at Baseball Think Factory links USA Today's Organizational Report on the San Francisco Giants today. The report was written a couple of weeks ago, actually, as is evidenced by both the url and the references to the team maybe picking up Rod Barajas or someone to help Buster Posey out behind the plate.  But the age of the report only helps to highlight the best part: Brian Sabean explaining the Giants' new organizational philosophy of getting on base and working counts: 
. . .the Giants want to change their hitters' mind-set, a process that
began when they replaced hitting coach Carney Lansford with Hensley
Meulens after the season, and Molina's .285 on-base percentage did not
fit with the philosophy. Plus, when you register the lowest OBP in baseball (.309), relying purely on instinct might not be such a good idea.

"Last year we were challenged because we had a bunch of free
swingers, and some of our better hitters were free swingers," general
manager Brian Sabean said, naming Molina and Pablo Sandoval among them.
"It is a shift. The first thing we'll do once we have the players at
hand on the roster is figure out how we can have a better attack. It's
not necessarily hitting home runs as much as taking care of your
opportunities. We are going to work counts more if possible."
I'm trying to figure out what my favorite part of this story is.  The choices:
The fact that Hensley Meulens, the man tasked with implementing this alleged new philosophy, had a lifetime .288 OBP;
The fact that Sabean seems to think that you should teach the players you have how to get on base as opposed to actually going out and signing players who have demonstrated that they know how to get on base;
The fact that eight days after this story was first published, the Giants re-signed Bengie Molina, who is repeatedly cited in the article as a counter-example to the team's alleged philosophy and is probably the least patient hitter in baseball; or
Other than that, great philosophy fellas. Whether it's any better than the last two Giants philosophies (i.e. "Do whatever Barry wants" and "sign old dudes and talk about how great it was when Barry was here") is an open question.