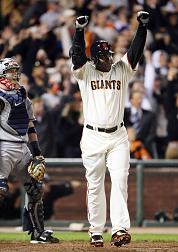 Former Washington Nationals' pitcher Tim Redding was on the radio yesterday, accusing teammate Mike Bacsik of intentionally throwing a fat pitch to Barry Bonds, giving him the record breaking home run:
"I think he wanted to give it up. And he can say what he wants in
defense or whatnot, but doing the chart, I mean, every ball that Barry
hit, the ball was center cut, right down the middle, fastball. You
know, I think maybe inside he was thinking he was going to get a little
bit more publicity.  Maybe, you know, publicity and some money out of
it, appearances, stuff like that."
Bacsik's response via Twitter:
"Well just got a call from Bill Ladson of washingtonnationals.com and
Tim Redding said he believes I tried to give up homer#756 Good
teammate"
What he said. I mean, there was a time when a guy wouldn't publicly accuse his teammate of taking a dive like that.  He would keep the fact that his teammate took a dive like that all to himself.
OK, seriously, I have no idea if Bacsik really did groove one to Bonds. It's not like he had masterful stuff anyway — he gave up 26 home runs in 118 innings in 2007 and had a lifetime ERA of 5.46 — so the odds favored Bonds jacking one out of the yard that night anyway.