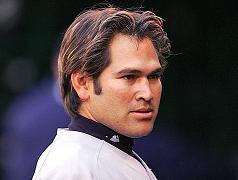 No matter how many times we heard the reports that the Yankees were going to stick to a budget and couldn't give more than a couple million bucks to Johnny Damon, you always got the sense that those two kids would make it work. After all, just because the Yankees allegedly have a budget doesn't mean they don't have the money. And hey, they made Andy Pettitte cool his heels until late January last year, so maybe they're doing the same thing with old Johnny D.
But now it really does seem over:
"Don't bother paying attention," general manager Brian Cashman said of
chatter linking the Yankees and Damon. "Johnny's physical abilities
exceed our financial abilities at this point in time."

Damon's
agent, Scott Boras, was unavailable for comment. Meanwhile, reached by
text message on Tuesday night, Damon also said talks never got off the
ground since the Yankees' mid-December acquisition of Nick Johnson.

"Never started again," Damon said of any negotiations. "They have their budget."

Yankees
manager Joe Girardi refused to rule out a return, though he expressed
his doubts candidly: "I don't see it getting done."
Boras was unavailable for comment? The fact that even he can't figure out a way to spin this situation may be the most revealing thing I've heard in weeks.