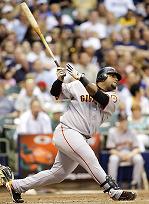 Speaking of weight, Pablo Sandoval is back in the U.S. following a tour of the Venezuelan league that reportedly had him falling off the healthy food wagon:
[Giants head trainer Dave] Groeschner feared a big weight gain in Venezuela when Sandoval was
left to fend at the dinner table without the nutritional prepackaged
meals he was given at Camp Panda. Sandoval said he was good – mostly.

"I was still eating the same portions," he said, "except Sunday. I went away from the diet."

And what South American delicacies did he consume when he went off the plan?

"Hamburgers and hot dogs from stands in the street," he said.
Ah, the Anthony Bourdain diet.  I bet it was tasty.
In other Panda news, here's Sandoval's interaction with the emcee at a charity dinner last night:
Emcee: What position do you like most?
Sandoval: Hit.
Emcee:  Which glove do you like best?
Sandoval: Bat.
Evidence that there is no God: This guy and Adam Dunn are forced to wear gloves in the National League while Ozzie Guillen plans on using Omar Vizquel as a DH in Chicago.