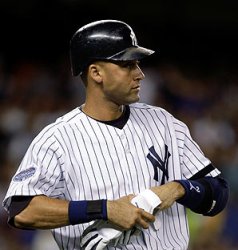 I don't mean which of those two can bench the most, I'm talking about power defined in terms of influence, appeal, marketability and money. Which of them can most easily impose their whims on we mere mortals and most expect us to do their bidding?
Well neither of them can, but the people who write BusinessWeek Magazine enjoy ranking people as if they can, and today they've announced their "Power 100" athlete list.  Topping the list is Tiger Woods, which means that they complied this thing before Thanksgiving.
But what about baseball players?  I was rather surprised to learn that Albert Pujols is the top ballplayer. I mean, he's awesome and all, but he doesn't exactly dominate the national zeitgeist in any appreciable way.  Derek Jeter does, yet he somehow falls behind Pujols, Ryan Howard, Joe Mauer and CC Sabathia (and Usain Bolt, Shaq and Jeff Gordon and some other questionable choices for that matter). Sure, they say that their methodology took on-the-field performance and things like marketability into account, but unless Subway Commercials get a multiplier of, like, a thousand, I'm having trouble seeing how guys like Howard outstrip Jetes no matter how you calculate it all.
Or — and sit down for this, because it may shock you — the people at BusinessWeek could have pulled this list entirely out of their rectums in an effort to get people to click through each of the 100 individual pages each athlete gets.
Nah. That would never happen.