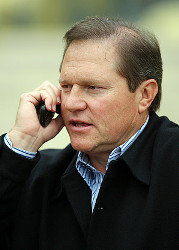 In light of this morning's news, that moderately panicked sound you hear is Scott Boras working the phones, desperately trying to find someone that will pay Johnny Damon $2,000,001, thereby saying Boras the indignity of being totally, completely, utterly and publicly pwned by the Yankees.  Two candidates: The Reds and Tigers, according to Jerry Crasnick.
The Tigers laughed out loud when Heyman and Boras tried to prop them up as a stalking horse earlier this month. They don't want any part of him.  But what about the Reds?
On paper it makes some sense. Cincinnati is stuck with, what, Chris Dickerson as their left fielder? And as was the case in Yankee Stadium, the cozy dimensions of Great American Ballpark may play to Mr. Damon's strengths.
But can the Reds afford it?  They had to have Scott Rolen rejigger his contract in order to make 2010 work already, and that was before they added the Aroldis Chapman dollars.  What's more, I don't think Walt Jocketty is deluded about his club's chance to compete this year (i.e. they don't have much of one).  Adding Damon may clearly separate the Reds from the Pirates and rocket them past the Astros, but isn't that fourth place really the top end here? I'll even go with third if the Cubs or Brewers run into some bad luck, but I think we can all agree that even with Damon, the Reds aren't going to be knocking on the door of the playoffs.  This is a team that is building to compete in 2011 or 2012, so why throw the money away on Damon now?
At any rate, Damon texted Marc Carig of the Star-Ledger the other day and told him that he'd have a team by Saturday. It's Wednesday afternoon. Either Scott had better start dialing faster or else there's going to be a news conference early next week in which the Yankees re-introduce their supremely humbled bargain basement outfielder.