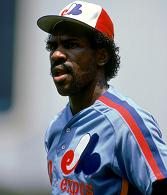 Our long international nightmare is over:
After attending the annual B.A.T. banquet in New York Tuesday night, [Andre] Dawson sent the following text to The Tribune: "Hall will issue a press release (Wednesday) announcing that I will go in as an Expo."
While Dawson may have enjoyed more general fame as a Cub, he played 1443 games in Montreal vs. 867 in Chicago and was a Gold Glove centerfielder. If he had retired to become a shepherd in 1987, people would forever play the "what if" game, talking about how a very special player had hung it up in his prime. If his Cub career somehow stood alone and ended as abruptly, people would remember him as good but not spectacular power hitting corner outfielder, kind of like David Justice or someone. I think that takes care of it.
But the real question remains: now that he's not going in as a Cub, is the team going to be petty and not retire his number?